Global leader
Modern adhesive technologies make a difference in virtually all areas of business activity and our everyday lives: from smartphones to food packaging, from cars to airplanes, from construction to industrial plants. Around the world, we offer high-impact solutions and products as the leading supplier of adhesive technologies.
Together with our customers, our experts develop groundbreaking innovations and customized products that generate competitive advantages and create sustainable value.

For example, Henkel has been a partner in the aviation and aerospace industry for more than 40 years, predominantly for its high-performance adhesives and system solutions for surface treatment applications.
Our compound and structural adhesives allow increased use of lightweight construction materials made of carbon and glass fibers in aircraft engineering. They enable wings, tail components and fuselage segments to bear loads ten times greater than the capacity of equivalent conventional metal structures.
The innovative product Loctite EA 9394 Aero is a highly resilient adhesive mainly used inside Airbus wings where it fulfills a number of different functions: It ensures optimal adhesion of the relevant components and fills the tiniest irregularities in materials as well as cracks. Its fluid consistency also compensates for uneven tension, which constantly affects wings. 
Henkel provides many high-impact solutions that make aircraft more sustainable, more comfortable and safer: In order to reduce fuel consumption, lightweight construction materials such as composites are increasingly used in modern aircraft. Our specialty adhesives enable the different combinations of materials in the fuselage, wings and interior to be bonded together as strong, durable assemblies. Our solutions are also used to improve efficiency in aircraft turbines and thus contribute to sustainability. Passengers themselves benefit mainly from low levels of cabin noise and from enhanced safety, including in the form of solutions to protect against lightning strikes.

Due to the increasing global demand for modern aircraft of this kind, manufacturers such as Airbus are working intensively on using automation to accelerate their production processes. Our technologies also help in this respect by further increasing our customers' process and cost efficiency.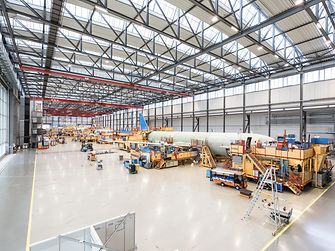 In the huge hall in Hamburg where the Airbus is assembled, products from Henkel Adhesive Technologies are used in many of the individual operations.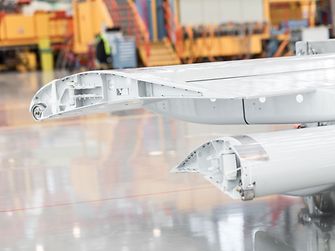 Airbus uses our high-impact solutions in the fuselage and wings of its aircraft, for example.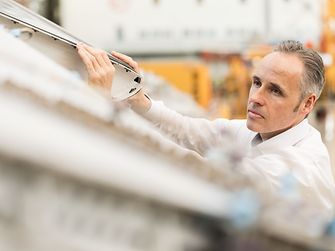 Guido Adolph, Key Account Manager Aerospace at Henkel, checks for optimal application of the Henkel products.
Loctite EA 9394 Aero is a highly resilient adhesive that is mainly used for bonding inside the Airbus wings.
High-impact solutions for industries and customers
Our market leadership and global presence enable us to offer solutions and systems across all business areas and regions in the form of adhesives, sealants and functional coatings that make industrial products and consumer goods better, safer and more sustainable. It is not only the aerospace industry that relies on our highly effective solutions; nowadays there is scarcely an industry sector that does not benefit from the process reliability of Henkel's sustainable technologies.

The activities of the Adhesive Technologies business unit are divided into five strategic business areas, each serving a different global market. Alongside the aerospace industry and the metal processing industry, in the Transport and Metal business area we also provide automotive manufacturers and suppliers with leading system solutions and specialized technical services, enabling high-speed production of modern, increasingly digitized automobiles. In the Packaging and Consumer Goods Adhesives business area, we also work with global branded goods manufacturers and international customers to develop innovative and specialized applications, covering – for example – the entire spectrum of food packaging, hygiene products, shoes and textiles, furniture, and timber construction. In the General Industry business area, we offer an extensive portfolio of products for the manufacture and maintenance of durable goods such as household appliances, machinery and industrial plants. In the Electronics business area we develop high-impact solutions for the bonding and thermal management of electronic components, semiconductors and consumer electronics that make a key contribution in meeting the continually growing requirements of networking and digital performance. Our Adhesives for Consumers, Craftsmen and Building business area markets an extensive range of brand-name products for private, trade and construction users. The portfolio provides tailored solutions for everyday DIY and repair tasks in the home as well as for professional building applications.

Loctite – Henkel's largest single brand
We market our products under a strong global brand architecture. We consistently leverage our five technology cluster brands – Loctite, Technomelt, Bonderite, Teroson and Aquence – in the industrial markets. In the consumer and building sectors, we have a well-balanced portfolio of international, regional and local brands, such as Pattex, Pritt or Ceresit.

Loctite is the Henkel brand with the highest level of sales and is well-known, tried and trusted for its premium quality and innovative power. In innumerable challenging industrial applications, from smartphones and food packaging through to automobiles and aircraft, its broad portfolio of products facilitates high performance and technological progress. Loctite products also enjoy an outstanding reputation among many millions of private consumers from America to Europe and Asia, acting as a superglue or universal adhesive, for example.